TITAX EVO Levers are now available !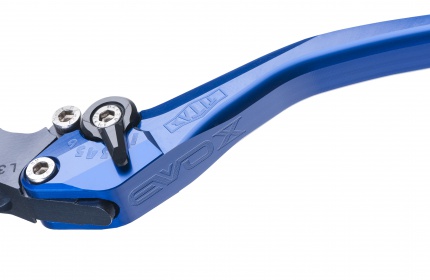 19 January 2017
Our goal at TITAX is to concentrate on creating only the highest quality products available. We are always trying to be a step ahead in the development, quality and aesthetic of anything offered on the market.
Our latest addition is the new TITAX EVO lever - the only truly ergonomic lever on the market.
We call them the "DIAMOND" among all adjustable levers. The TITAX EVO lever has a curvature along its full length very close to that of some of the OEM levers. All adjustable levers except for the TITAX EVO lever have a strictly linear responsiveness. Some riders and racers don t like this because they don't provide enough feel, rendering a limited functionality of the levers. Control under braking is not as precise and their sensitivity is not always optimal.
The design of the TITAX EVO offers the greatest feel and control possible, providing greater confidence particularly during technical riding manoeuvres. 
It is a design that is completely different from anything else currently offered on the market, a product that is absolutely EXCLUSIVE, with precise bevelled edges. This is what gives the TITAX EVO lever its shape and the feeling of a real DIAMOND.
The TITAX EVO is the ONLY ONE which joins all of the BEST attributes:
ADJUSTABLE
ERGONOMIC 
COMFORTABLE
PERFORMING
plus TÜV/KBA approved
USED in MOTO 2 and WSBK !